If you are self-conscious because you have missing teeth, wear dentures that are uncomfortable or don't want to have good tooth structure removed to make a bridge, dental implants may be an option for you. Come into our Rochester Hills office and have a consultation with Dr. Tate Vo. Her expertise as a prosthodontist will help in developing the best possible plan of treatment for you personally.
An implant is a tooth replacement where no tooth exists. It is a titanium root placed into the bone acting as artificial roots for supporting a restoration or denture for single or more than one tooth. They can help to stop and may even prevent further jaw bone loss. People can regain function and stability in the way they bite, chew food, and speak with dental implants. With Dr. Vo's expertise and skills in planning out the sequence and necessary steps, the implants will have a greater chance of success to mimic a natural tooth as much as possible.
Dr. Vo will work closely with you to make sure you are a good candidate for implants. After examining your mouth through sight, x-rays, and models (when needed) she will communicate by prescription the necessary information for fabrication of the implant and restoration (prosthesis) to the implant specialist and dental laboratory technician. Working hand in hand with them, she continues throughout the treatment to make sure you are receiving the best possible care. Once the implant specialist has completed the placement of the implant and has checked and verified the healing, Dr. Vo will then work with the dental laboratory to build the replacement tooth. She will place the abutment (the attachment piece) and design the perfect crown for you. Once the crown has been completed she will make sure that it fits perfectly into how your jaw comes together, giving you a replacement tooth that looks and works just like your original tooth.
Dr. Vo is ready to consult with you on all your options for that smile you have always wanted. She is here to assist you in getting and maintaining great oral health through educating you on how to care for your mouth and on all the possible options you have available to you for your optimal dental health. No matter if you are from Rochester, Troy, Shelby twp, Oakland twp., or any of the greater Detroit areas; we look forward to hearing from you today.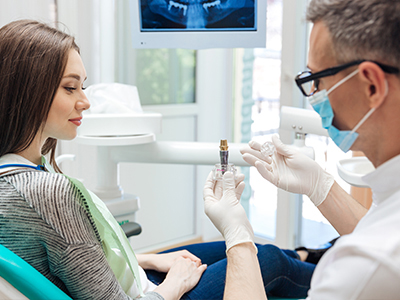 Our Location
950 West Avon Road
Suite 1

Rochester Hills
,
MI
48307
(248) 630-3157
Follow Us