You can expect the very best when you trust your dental health to Dr. Vo and her staff. Our facility was uniquely designed with the comfort and safety of our patients in mind. It is our goal to do everything in our power to ensure your complete satisfaction. We work very closely with our patients and offer a clean, peaceful environment where they are greeted by name upon entry.
The wonderful aroma of fresh coffee comes from our fully stocked refreshment center. We ask our guests to feel free and chose from the great selection of snacks and granola bars. Once our guests are invited back, they are seated into an especially comfortable dental chair. There, the dental hygienist will inquire if they would like the heated massage chair turned on, an I-pod with noise canceling capabilities, or cable TV to watch during the appointment.
We encourage our new patients to receive a comprehensive exam, which consists of a complete review of their health/dental history, digital pictures, diagnostic x-rays, diagnostic models (if necessary) and thorough examination of the teeth and TMJ as a system. This extremely thorough examination provides Dr. Vo with the information needed for a complete assessment and allows her to work with the patient in creating the best plan for their dental health care.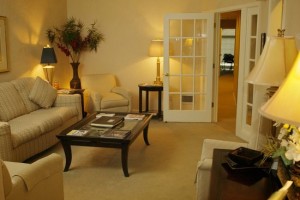 From the very first moment you enter the French doors to our office until the very last moment when you leave, our mission is to make you feel as comfortable here as you would in your own home. We truly value our patients and their dental needs so we want them to feel special every step of the way.
Since we truly value our guests' time, we will do our very best to seat each and every patient within 5 minutes of their appointment time. If an unexpected delay is imminent, our guests will be informed and satisfactory arrangements for the waiting party will be made.
For patients who decide to have sedation dentistry, we may offer our patients a complimentary metro-car pick-up from their home so that they are able to arrive safely to the office. If needed, we will also make the same arrangements to get them safely home.
Our office works with most dental insurances to maximize your dental benefits. If you have any questions regarding your insurance please give us a call. We also work hand in hand with Delta Dental Premier.